ALWAYS & FOREVER HUMANITY PASSION!
Give and take, receive and give is building relationships between people to make one big family
– Pam Brown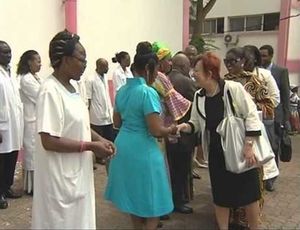 2013
Doris Ouellet was invited by Mrs. Amina Gerba, CEO Africa Expansion to travel to Yaounde, Cameroun, to make a donation of 3,000 eyeglasses frames for men, women and children, to the Chantal Biya Foundation, whose mission is to fight against the suffering, assisting the disadvantaged segments of the African society.
2016
In Canada, in collaboration with Centennial, Doc & Associates donated 460 pairs of children's eyeglasses to The Eye Disease Foundation.
2018
May 9, 2018 Doris headed back to Cameroun after amassing 6,000 frames all with prescriptions. This was made possible through the precious and dedicated time and work of students from Georgian College in Ontario, under the supervision of Mr. Terry Finkelman.